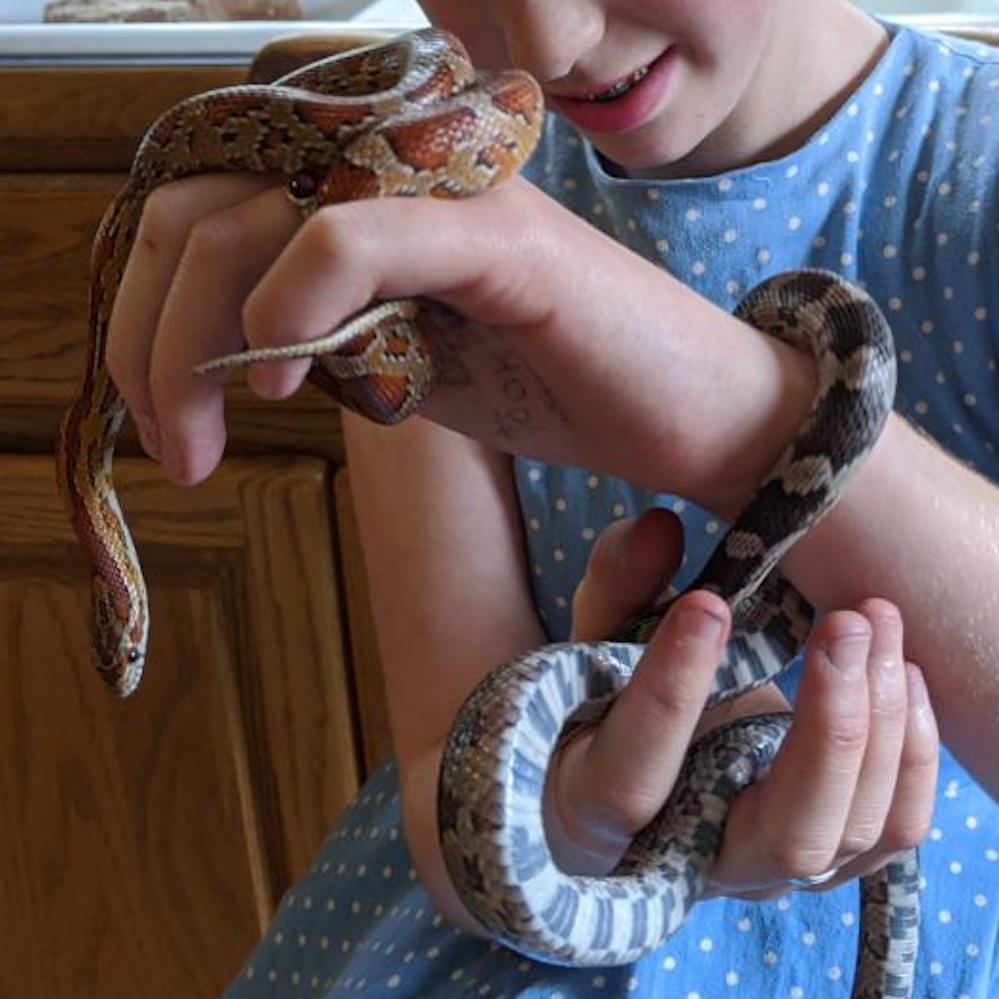 Congratulations, Lane School staff, students, and families! Together we have successfully completed WEEK Six of Distance Learning for All! This week we are featuring a picture shared by Rm. 6 of Lizzie and Marie, Maj's friendly and safe corn snakes. They look healthy but sure miss all their Lane School student friends.
The Lane School community has once again shared so many highlights from this week! On Wednesday Rm. 10 celebrated Katie's birthday! Belated Happy Birthday Katie! Also, students learned how stress affects the brain and body, and some students had a great turnaround, getting back on track with completing school work. In the Rm. 10 Dogtastic OLR Thursday, they learned from Chan and Loki's puppy raisers how to train a puppy to "shake" and roll over. Rm. 16 reports Emily led their first ever Zoom exercise lesson. Students practiced arm circles, running in place, and jumping jacks.
Participation was enthusiastic, and everyone earned a pat on the back (from a distance, or course! Rm. 8 shared these highlights:
• DJ and Raven took turns sharing their amazing music creations during the OLR. They were engaged and appropriate the whole time.
• Jack reported their new house move is going well, and he is helping out a ton with fixing it up.
• Dylan won their wheel-o-pizza drawing last Friday… and he accepted it!
• Rowhan stayed on topic for the majority of their Zoom meeting Wednesday!
Other school-wide highlights include:
• Last week's middle school reinforcer had some awesome activities,
including a cooking show hosted by Room 9! This week's selection
includes creating and sharing music, learning about Lane School's
service dog's puppyhood, or challenging your brain and competing for
MineCraft Uno!
• A student doing distance learning over the phone is expressing
eagerness to learn more math! Now that he's mastered division, he
wants to know how to measure and use math in the kitchen!
We are so proud of the efforts and successes we continue to see from staff, students, and families!
And, here's a NEWSFLASH! Lane School now has a YouTube Channel. Click on the Lane School YouTube button in the side-bar to watch some special messages from familiar faces and critters 😉
Remember to take care of yourself:  read and get outside everyday, wash your hands, and be kind to your family members!  Below is our weekly newsletter, and on the sidebar you can find additional resources for FAMILIES and EDUCATORS.  Please call or email your child's teacher or Lane School office staff if you have questions or need assistance (Staff Directory here).
We look forward to seeing everyone for WEEK Seven, starting Tuesday May 26th.  REMEMBER, Monday is MEMORIAL DAY. ALSO, note that Fridays are now furlough days; no school on those days. MORE INFO HERE
BE SAFE, BE RESPECTFUL, BE RESPONSIBLE, & STAY COOL at LANE SCHOOL!!